Fibre Broadband packages for businesses
FIBRE BROADBAND – FTTC
What is FTTC?
Fibre Broadband – FTTC stands for Fibre to the Cabinet. Fibre Business broadband offers speeds up to 76Mbps download and 19Mbps upload. This technology is the highest offering in the broadband portfolio, utilising old copper infrastructure and combining that with fibre optics between your local cabinet and the exchange. As FTTC operates on existing copper infrastructure (The last mile), it carries a rapid and efficient installation.
The "last mile" is what connects from your premises to the FTTC enabled cabinet. From the exchange itself, your connection will join optical fibre infrastructure which is delivered to our core network.
Fibre Broadband is an excellent value and consistently reliable, with a range of packages designed to give your business or clients the flexibility to grow. You don't need to worry about what package will best suit you and your business, one of our advisors will recommend a suitable package for you, depending on what speed you can receive from your exchange and what you will use the line for.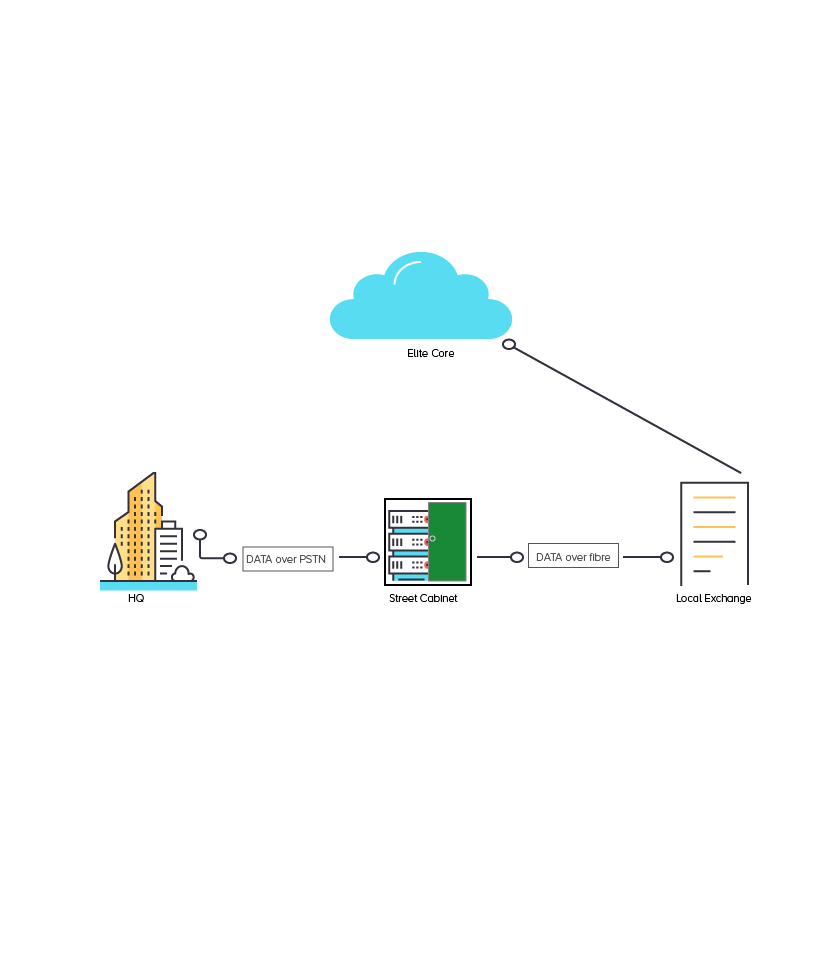 FTTC FAQ
Find the answers to commonly requested questions.
How does FTTC Work?
Fibre-to-the-Cabinet (FTTC) involves running fibre optic cables from the telephone exchange to the street cabinets which then connect to a standard phone line to provide broadband. This reduces the overall length of the copper circuit used allowing greater speeds to be achieved. FTTC is currently available with download speeds of up to 76Mbps and upload speeds of up to 19Mbps.
What are the benefits of FTTC?
Fibre broadband is widely available in just over 90% of UK homes and businesses. It is highly cost-effective and can be deployed within 5 working days. Offering quick access to the Internet for small organisations that do not have the FTTP or G.Fast products available.
Do you have any bandwidth restrictions?
We do not. All Elite connections offer every user truly bandwidth unlimited with no caps, overreach charges, or slowdowns. This is one of the reasons we're classed as a Business only ISP.
Do you offer a guaranteed fix time on FTTC?
Yes, we do. While this is an additional service, we offer two levels of SLA's on our Broadband connections. 24-hour fix, or 8-hour fix time. You are always presented with these options upon ordering, so they are easily added to your account.