Full fibre broadband for ultra-low latency
Fibre to the Premises - FTTP
What is FTTP?
FTTP from Elite is a super-fast fibre optic technology where the connection is fibre throughout, giving you incredible speeds of up to 330Mbps download and 50Mbps upload, whereas fibre to the cabinet (FTTC) is delivered to the premises using copper infrastructure and only has speeds of up to 76Mbps. In turn, this impacts its performance and the available speeds. FTTP is the ideal product for SME's needing a high bandwidth at a low cost.
How does FTTP work?
FTTP is a fibre optic connection that's terminated straight into an end-users premise. Data traffic is then sent back to the local exchange through the cabinet where it's connected directly to high-powered optics. These high-power optics are what connects the FTTP to the national fibre optic backbone. This means you can now get an inexpensive, full fibre internet connection for less than ever before.
"Need to knows" of FTTP
FTTP is an excellent all-round product, bridging the gap between broadband and Ethernet connectivity. However, FTTP is classed as broadband.  An Ethernet Fibre, EFM, or EoFTTC are entirely private, uncontended and offer a Service Level Agreement. Unfortunately, these are not features of FTTP. Although, there are options that you can add to improve the service of your FTTP connection. Adding Enhanced Care or Critical Care will prioritise any faults with your fibre broadband to ensure engineers are dispatched and faults are clear within a defined timeframe.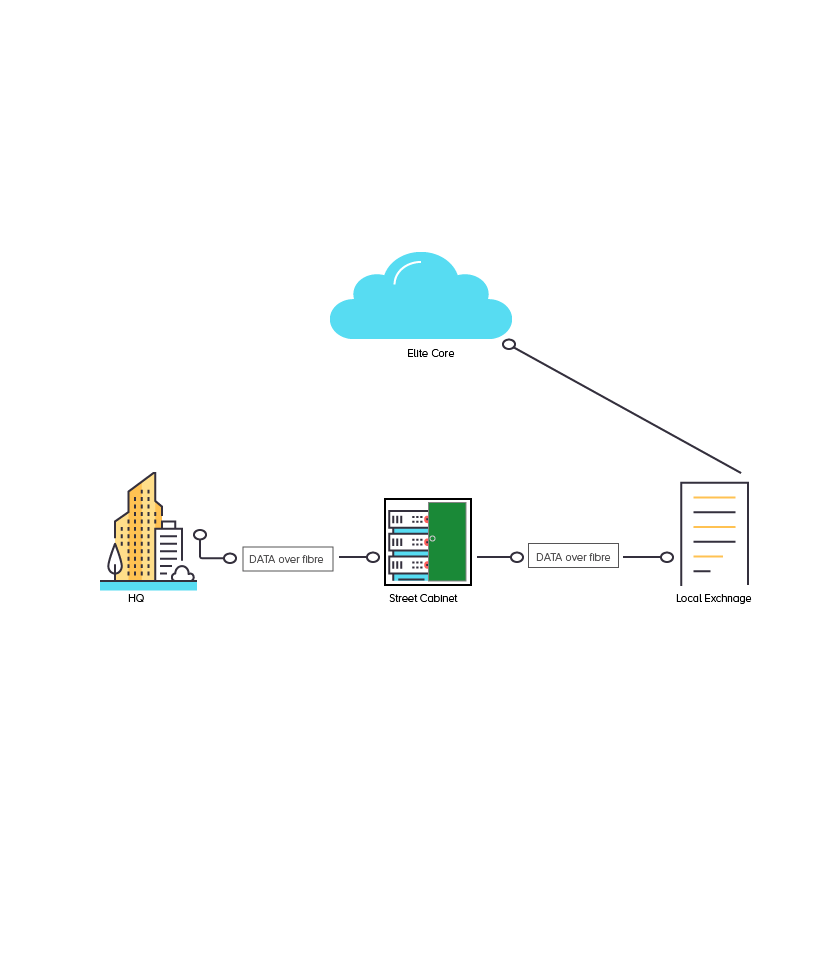 FTTP FAQ
Find the answers to commonly requested questions.
What speeds can I get on FTTP?
Our Ultrafast fibre to the premises services comes in a variety of differing bandwidths:
40Mbps download with 10Mbps upload
80Mbps download with 20Mbps upload
160Mbps download with 30Mbps upload
220Mbps download with 20Mbps upload
330Mbps download with 50Mbps upload
How quick can you install FTTP?
FTTP installs are a lot more complicated than FTTC lines. They typically need two engineer visits. One engineer will install fibre via ducting to your premises, the second will install the internals and get you up and running. FTTP comes as standard with termination equipment but no router. The typical lead time for a complete install is 60 working days. however, this is only an estimate.
Can I change my bandwidth at a later date?
Bandwidth is allocated and given to each customer at the point of sale with their agreed speeds. To upgrade this mid-term would be classed as a 'modify request' and will mean a new contract will have to be agreed before the upgrade can take place.
Do you offer a guaranteed fix time on FTTP?
Yes, we do. While this is an additional service, we offer two levels of SLA's on our Broadband connections. 24-hour fix, or 8-hour fix time. You are always presented with these options upon ordering, so they are easily added to your account.