More and more objects are connected to the internet every day and in the next decade, there won't be a single area of our life that will remain unaffected by the Internet of Things (IoT). In 2017, there were about 27 billion devices connected to the internet. According to IHS Markit, this number will grow to 125 billion in 2030. Considering the number of devices that will be connected, everybody is going to demand faster internet connectivity. So, how can you improve your internet speeds? Before answering this question, we have defined what causes your internet to slow down in the first place.
Some of the causes of slow connectivity are due to temporary service interruptions; this can happen when your ISP is performing maintenance, or due to bad weather disrupting the signal. In this case, your ISP will usually post an update on their website with a timescale of when the service is expected to return to normal. Another reason for slow connectivity is caused by downloading or uploading large files at peak times; most ISPs prevent users from doing this at peak times, although that is not the case with a Dedicated Internet Access, which ensures that everybody is able to access the service at the same time.
Using an old web browser could also slow down your connectivity; speed improving updates are released often, so it is important to always ensure you have the latest version, as well as clearing clogging data and temporary browsing files, which can mount up and slow down your connection. Finally, old hardware or having the same router for a really long time can slow down your connection; hence upgrading to a new model of hardware could dramatically improve your speeds. Having considered the main factors that can cause a slow internal network, we have listed the most common solutions you can try to ensure you optimise your internet speeds below.
Check your connection. You can start by testing how fast your existing connection is through a speed test, in order to find out whether there is a difference between what you should be experiencing and what you are actually receiving. If you have a new connection, the speed will fluctuate in the first week or so – while the optimal speed is being recognised – so it is advised to wait after the first ten days to carry out the speed test. After carrying out the test you should check how old your devices are.
Check your hardware. If you are using devices that are 3 to 5 years old and are experiencing slow broadband, then it might be time to upgrade to new devices. You can start by looking in the settings to check the speed supported to make sure it is not slowing down; furthermore, speed can also be impacted by how many files are being stored in the devices – a way to solve this issue is to clean up the Disc. Finally, the last step is to clean the cache on your devices. Once you have upgraded your hardware, you can start looking at using the best security solutions for your settings.
Check the channel. To help you free your connection from the Wi-Fi congestion around you, you can download apps such as Wi-Fi Analyzer that, with real-time graphs, show you the signal strength of any networks you can find. It will also suggest which channels you should use for your own internet (conventionally 1, 6, or 11 for 2.4GHz and the least congested for 5GHz). Otherwise, find the channels that seem the least congested around you and connect to those. Some devices will automatically switch between the best channels. After changing the channel, you should also check the frequency band you are connected to.
Check the frequency band. Wi-Fi uses 2.4 GHz and 5 GHz frequencies; when several devices are connected at the same time, you can experience some interference that can impact your performance. Having a system that supports both bands will allow you to switch from one frequency to the other, whenever it senses high levels of traffic, giving you speed and stability.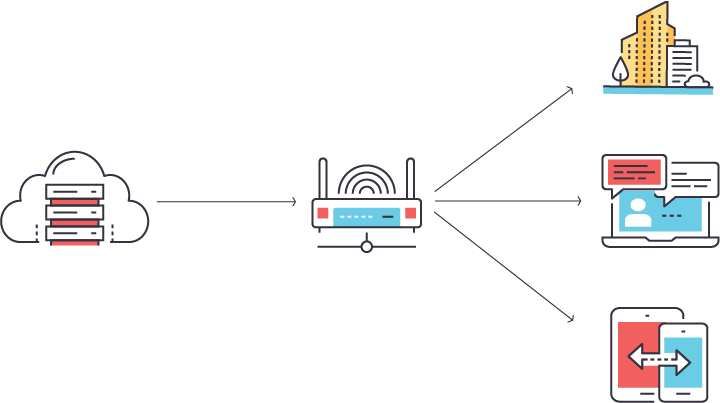 As global data transmissions are expected to increase from 20-25 percent annually to 50 percent per year on average in the next 15 years, having a fast connection will become even more paramount for every user. By following the steps mentioned above you will be able to optimise your internet connection, ensuring you have faster connectivity. If you are still experiencing a slow connectivity, there are other factors to be taken into consideration, such as how close your business is to a street cabinet, whether the broadband microfilters have been installed correctly, the processing speed of your devices, and the time of the day – the busiest hours for business broadband are between 12 pm and 2 pm.
However, with Ultrafast Broadband your employees can carry out high-capacity tasks rapidly and simultaneously, despite the size of your organisation. With no buffering, downtime or waiting around, Ultrafast Broadband can be the perfect solution if you are experiencing a slow internet connection. Click below to find out more about the advantages of Elite's Ultrafast Broadband or get in touch to find the right connectivity solution for your business.