A mesh Wi-Fi system is when two or more Wi-Fi routers work together to provide a wider Wi-Fi coverage than a single router can; this gives users a single Wi-Fi network even though in the background every device automatically connects and disconnects from the individual routers to find the best coverage for the particular device. If you're wondering whether a mesh Wi-Fi system can replace an existing router's Wi-Fi the answer is no. In fact, you'll have to attach one of the devices from a mesh Wi-Fi unit to a spare network port on the router and it will create a new Wi-Fi network, to which your devices will then connect; covering a much larger distance than a standalone router would and effectively coating your building with a Wi-Fi blanket.
There are different benefits of adopting mesh Wi-Fi systems for businesses, and they vary by manufacturer. We've been testing some of the best available Wi-Fi units present in the market today, in order to pinpoint their pros and cons, compare their features with price, ease of set-up, customer/technical support, and their suitability in a business environment.
Our rating: ★★★★★
Performance: ★★★★☆
Price: ★★★★★
Setup: ★★★☆☆
Featureset: ★★★★☆
Throughput: 300 Mbps on the (5GHz band) and 450 Mbps on the (2.4 GHz band)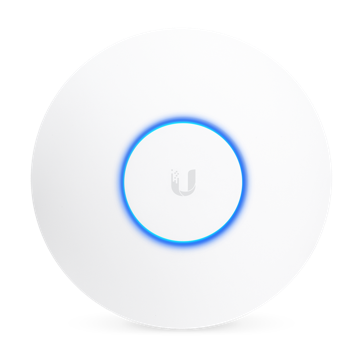 The first mesh Wi-Fi system we have reviewed is Ubiquiti UniFi. Compared to Netgear Orbi, the set-up stage can simply be carried out by downloading the app and following the easy steps provided. This can also be done on the website, and every other aspect can then be managed via the dedicated app, making it easier for users to administer their services all in one place. This type of mesh Wi-Fi system is better suited for larger organisations with a dedicated IT team, or a small/medium tech-savvy company, as the set-up process is more complicated than the Netgear Orbi one. The price is also more reasonable compared to other business-grade mesh Wi-Fi units, making it a great investment for larger organisations that have the means to set-up a more elaborate system.
The pros of the Ubiquiti UniFi mesh Wi-Fi system are various. One of which is that the network administrator can see individual user statistics – these are displayed with graphs, making the data more visually appealing and easier to analyse. The statistics include social media data too – while Netgear Orbi does not offer this kind of detailed statistics page. Another feature that users will be able to set-up with Ubiquiti UniFi, but not with Netgear Orbi, is RADIUS authentication. RADIUS authentication enables network administrators to manage network access by helping provide greater security, control and monitoring. Other pros of this mesh Wi-Fi system include the guest control, which is one of the best ones compared to other units, as well as the elements of auto-optimisation and visual enhancement.
The positive features of this mesh Wi-Fi system far outweigh the negatives; network administrators can have more control, such as seeing all users, have multiple LAN, set-up VPN and open VPN. Another useful element is the topology feature, where users can visually see which device is where, and know what device is uplinked to what device. Even though the Ubiquiti UniFi is not as easy to set-up as the Netgear Orbi, once it's set-up it is quite easy to manage. As for the customer and technical support, there is a clear support section available through a live chat feature in the control panel. Overall, these mesh Wi-Fi units are a good investment for a larger organisation, as they are not just limited to network, but they can also be expanded to other elements, such as VoIP phone, outdoor access points, routing and switching and video surveillance.
Price: 3-pack £213.66 (Amazon.co.uk – price as of April 2019)
Our rating: ★★★★☆
Performance: ★★★★★
Price: ★★★☆☆
Setup: ★★★★☆
Featureset: ★★☆☆☆
Throughput: 866Mbits/sec (5GHz), 400Mbits/sec (2.4GHz)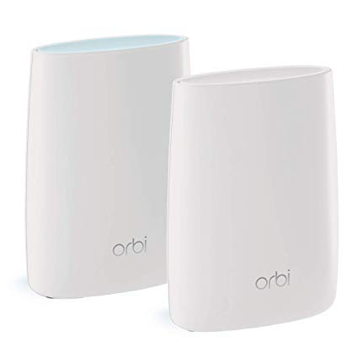 The second mesh Wi-Fi system we tested is Netgear Orbi. As for the set-up stage for this system, it is fairly easy and straightforward, as there is an app to set up/configure the units; for those who do not wish to use the app for configuration, this can be done on the Netgear website as well. For this reason, Netgear Orbi is a good fit for start-ups and smaller organisations. The easy and contemporary design of the units and their system makes it ideal for companies that are not in the tech sector and don't have a dedicated IT team, as the units can be easily set-up by anyone, following some easy steps that are listed in the set-up stage.
The pros of Netgear Orbi are the good speed and coverage, fast throughput and multi-user multiple input, multiple output (MU-MIMO) capability. There is also a feature that enables users to turn the Wi-Fi on and off on specific days. The cons are the expensive price and limited USB functionality. Another slightly negative aspect is the fact that the software hasn't changed much over the years, and even though users can still find everything they need there, it remains relatively basic. As for the customer and tech support, the Orbi support section includes tips and videos, as well as manuals. Help is also available via phone, online, email or mobile app.
Compared to the Ubiquiti Unifi system, Netgear Orbi lacks some features (e.g. guest access, and RADIUS set-up), but it does have features such as a speed test page and security settings, where users can easily allow or block devices. The guest portal settings are also quite easy to configure, as well as adding new satellites, where the status of the sync is made clear by different colours. All in all, Netgear Orbi is a great mesh Wi-Fi system for smaller companies and works well in open offices, although the price is quite expensive compared to other systems.
Price: Router and Satellite £236.05 (Amazon.co.uk – price as of April 2019)
Our rating: ★★★☆☆
Performance: ★★★★☆
Price: ★★★★★
Setup: ★★★★★
Featureset: ★★☆☆☆
Throughput: 400 Mbps for the (2.4 GHz band) and 867 Mbps for the (5GHz band)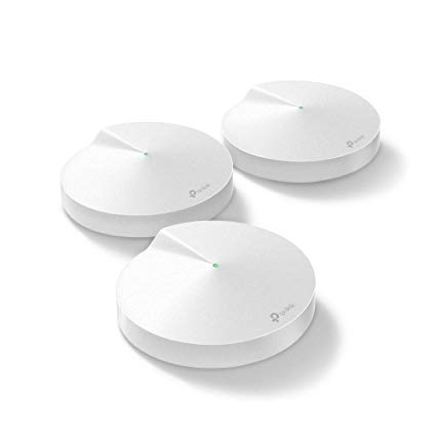 The TP-Link Deco M5 mesh Wi-Fi system is quite easy to set-up, with an automated pair-up and no extra configuration steps. When comparing this to the other devices, we found it not adequately fit for business purposes, but more appropriate for home use instead. The settings and features can only be controlled via the dedicated app, which has pretty basic control options. It lacks some features that business-grade mesh Wi-Fi requires, such as allowing the administrator to change names of the network and decide which units to connect to.
Some of the pros of this mesh Wi-Fi solution are that the network tests are carried out from the router instead of the device and the fact that it supports VLAN. Tp-link Deco can be used as both a router and an access point as well. One of the cons of this mesh Wi-Fi system is that there is no web control panel, and everything has to be done via the dedicated app.
The setup process is, however, very simple and intuitive, and it is quite similar to Google Wi-fi. Users have to download the Deco app by scanning the QR code and then connect the Deco M5 to the internet. Overall, the Tp-link Deco is not suitable for business use, as it would be difficult to manage multiple users, the roaming is a bit slow, and switching between Wi-Fi points can take a bit long, but it is a very good investment for home use. The wireless performance is very good and the installation process is easy, making this product an excellent mesh Wi-Fi system for a large house at a reasonable price.
Price: 3-pack £179.99 (Amazon.co.uk price as of April 2019)
Our rating:★★☆☆☆
Performance: ★★★★★
Price: ★★★★☆
Setup: ★★★★★
Featureset: ★☆☆☆☆
Throughput: 867 Mbps on the (5 GHz band) and 300 Mbps at (2.4 GHz)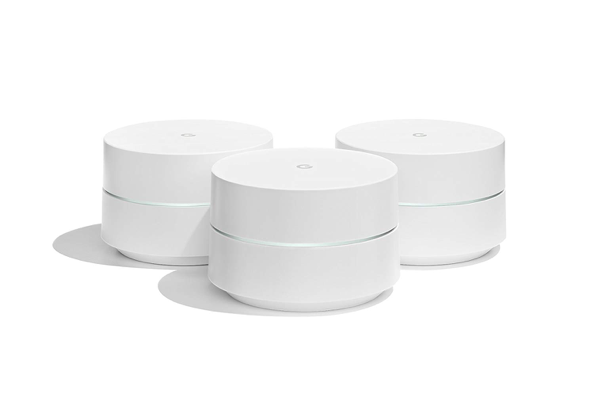 Google Wi-Fi is probably the easiest mesh Wi-Fi system to set up among the ones that have been reviewed in this article. The set-up process is very quick and clear to follow, making it the perfect mesh Wi-Fi system for a household, as the configuration process has been made really intuitive by Google for every user. Unfortunately, Google Wi-Fi is not as suited for businesses as its primary objective is for consumers. However, they would be suited for small business internal use to extend their Wi-Fi strength. With this being said, the features in the administration panel are quite basic and similar to the ones of the TP-Link Deco M5. All in all, the reasonable price, good coverage and large range make these mesh Wi-Fi units a good purchase for consumers and micro/small businesses.
To configure Google Wi-Fi, users can easily scan a QR code from the Google Home app, and connect to the Wi-Fi via Bluetooth first. The units can be bought separately, adding other units as different Wi-Fi points, or in a bundle together, making it an affordable and easy to expand mesh Wi-Fi system suited for every buyer. However, the lack of automation features and the lack of access decreases the control that can be applied by the network administrator, making these units not suitable for business use.
Google Wi-Fi is able to match the performance of the Netgear Orbi mesh Wi-Fi system, focusing not so much on throughput, but more on coverage. Pros include the fact that the network automatically repairs itself in the event of one or more Wi-Fi points being accidentally unplugged or losing connection/power. Although the Netgear Orbi units have slightly faster download speeds, Google Wi-Fi has a really good price to coverage ratio.
Overall Google Wi-Fi is the easiest to set up, and pros include the fact that it constantly monitors network and internet speed tests; the downside is the lack of dropdown boxes and toggles and basic features, which make it not suitable for business use, but ideal for home use.
Price: 1-pack £99 / 2-pack £189 (Google store price as of April 2019)
---
The mesh Wi-Fi systems that have been reviewed above have different pros and cons. As the analysis carried out aimed at finding the best mesh Wi-Fi units for business use, we have rated the systems as follows:
Ubiquiti Unifi – really good solution for tech businesses;
Netgear Orbi – good system for non-tech start-ups and smaller companies;
TP-Link Deco M5 and Google Wi-Fi – Suitable for home and small/micro use.